The Sanderson Sisters As Plants!
By Plant Daddies of Atlanta
With Halloween just about here, we thought it would be fun to think of what the Sanderson Sisters would be as plants! It's not just a little Hocus Pocus of which sister is which plants:
If Winifred is your go to character, you're totally extraordinary and you love the spotlight; It's not a matter of ego you're just a natural star. That is why the Thai Constellation is perfect for Wini! Wini is a trendsetter, and she can't imagine not being a complete original. The Thai Constellation is unique and always in the spotlight; a natural star if you will. Everyone wants to get their hands on one and they want to be the Wini of the group.  Let's face it, when you see a Thai, you can't help but to want to buy one!
With Sarah, she would be the Pink Princess of the group! You think life is about having a little fun and not taking everything so seriously. The pink variegation makes you different but definitely adds a little something to your collection. It gives off a refreshing look that is achievable without being a full-on star (like the Thai). Sarah is someone you can always count on when you need them, much like the Philodendron with their easy-care routine. Sarah can be there for you but also add a little fun to your routine.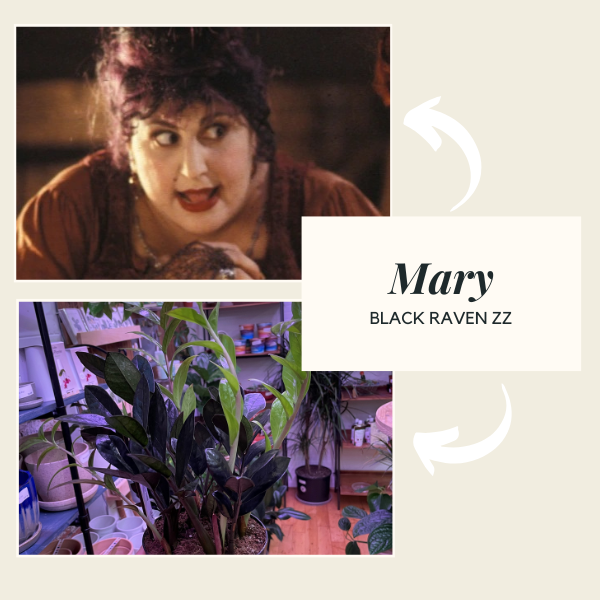 Lastly, sometimes you may feel like you're living in the shadows of others, but you can completely be amazing on your own, that is Mary as the Black Raven ZZ. ZZ plants are a unique, versatile plant and they do no need constant attention. Like Mary, the ZZ is extremely loyal to you as a plant parent and can live in most lighting conditions; you're not overwhelmed from spending so much time being the trendsetter, but not scary to take care of. Everyone could use a little Mary in their life.
Maybe you can relate to each plant that aligns with the personalities of the Sanderson Sisters! Let us know your favorite and we hope you enjoyed this fun Hocus Pocus activity just in time for Halloween. 🌱